Artigiani del Restauro is a mechanical workshop with an industrial background and a strong craft expertise, specialized in the restoration and sale of Berkel brand antique slicers; a laboratory with high-tech expertise and knowledge specialized in materials, components and products. Artigiani del Restauro was created thank to the know-how of Slayer Blades S.r.l. – leading industrial reality for the production of slicer blades for household, professional and industrial use who is in the business since 1979 – supported by the passion of the founder and his family for the restoration of antique slicers.
With professionality, craft care, industrial technology and attention to details, Artigiani del Restauro carries out out the restoration of Berkel and other trademarks flywheel slicers,  taking these historical machines back to their original splendor and perfect functionality. The customer receives a full service with a high quality restored finished product perfectly cared in every detail and faithfully reconstructed with precision and accuracy.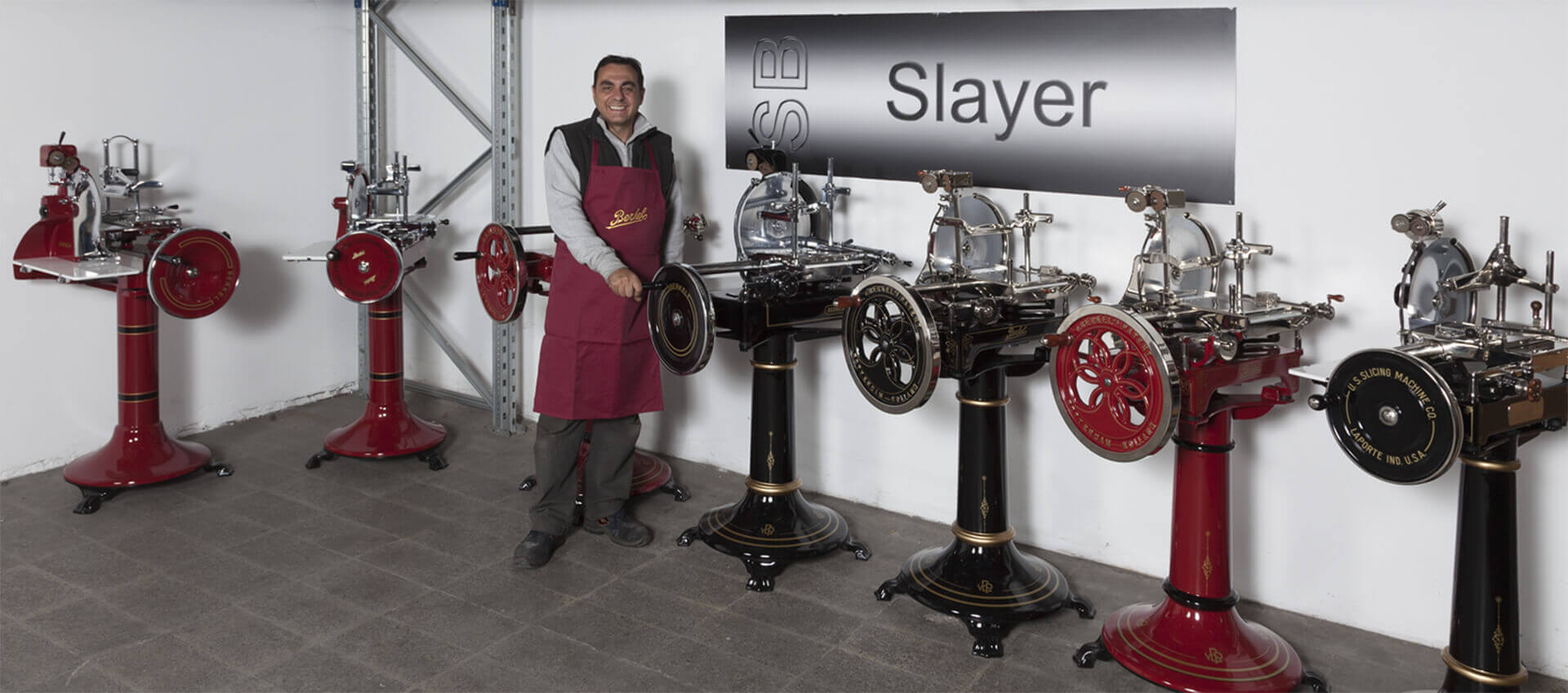 THE RESTAURATION
The entire restoration process, so as the third's party repairs of the Berkel flywheel slicers, takes place in the Oggiona S. Stefano, Varese,  plant. The workshop is equipped with the ultimate machine-tooling and works together with qualified internal and external technicians specialized in faithfully renovating or repairing the Berkel slicers and/or any damaged spare part. This is a critical point to completely accomplish a perfect and faithful restoration.
In particular, Artigiani del Restauro  uses high-tech  computerized machines, including a 3D scanner to scan missing parts which will be then ground- molded using new generation 3D printers. Each single production step of the Berkel flywheel meat slicer restoration is made with the highest accuracy by the internal of Artigiani del Restauro in order to guarantee the perfect result of faithfulness and the highest quality of the machine.
On request, the company can also manufacture and provide single spare parts for any flywheels slicers.
The restored slicers by Artigiani del Restauro are collection pieces and authentic pieces of interior design, exclusive and valuable. Furthermore, as each machine works perfectly, it can be used in restaurants and hotels and in private homes. Artigiani del Restauro is at complete disposal of collectors, designers, architects, traders and whoever interested in the ready-to-sell Berkel restored flywheel slicers.
Do you want to buy, sell or restore a vintage Berkel?