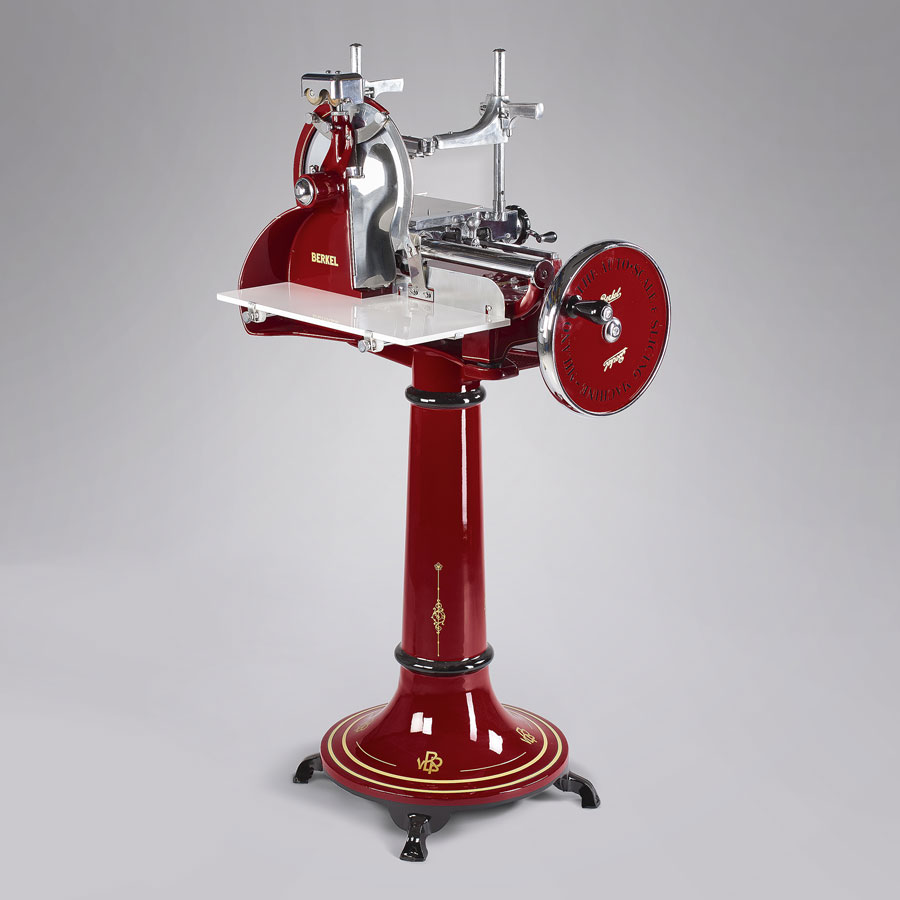 Berkel P
1932 – 1936
Black / Cream / Red
Berkel Model P is a model produced between 1932 and 1936 only and exclusively in the Berkel establishment in Milan. Together with the professional slicer NS , built in the same years, Model P is the second smallest manual slicer ever realized by Berkel. Right its restrained dimensions made Model P with pedestal be a very appreciated and used machine especially by ambulant little merchants .
In its first production years, the blade movement of such manual slicer  was generated by means of a conveying – belt : an exclusive system, unique in its gender , used by Berkel only with Model P. As per professional models 5 and 7, even with this machine the fixing clamp for the product to be sliced was initially composed of two little opposed columns crossed with some friction knobs and unified by an "L" shape arm.  Successively, in its last production years, the convoying method became through chain as per the other Berkel models. The fixing clamp became open and articulated with guided frictions by two little columns situated on the back of slicer model P.
Model P is a manual slicer. It's manual is closed and operates the gears assembly present on the machine base. The gears in turn generate the blade movement – through belt or chain  – and the scroll carriage – through two connecting-rods.
The scroll carriage – to the blade side – scrolls in on a visible pivot.  – which during the production years was then covered by a round carter. On its opposite side, the carriage leans upon a rod through a slide wheel.
The graduated knob for the slice thickness regulation present on the scroll carriage of this design slicer is unique in its gender : front sidewise and it's attached to the worm screw with a cog wheel. This last one, thanks to a peck-shaped rod, creates the movement through a device placed on this manual slicer base. This motion will then operate the worm screw inserted under the carriage on the front side of the machine, where the machine clamp comb is present, thus generating the slicing movement.  In this manual slicer the cog-wheel is connected to a lever which – operated in the two possible directions – will move the clamp right or left to the desired position.  Also this machine is a sharpener slicer with reduced dimensions hidden by a black plastic crown or metal. In this manual slicer the blade hub is inside the machine shoulder, which appears flattened and performs a wing-shape bow. The extraordinary machine conformation allows to extend its tray, thus gaining a bigger working surface.
Want to buy this Berkel Slicer?
Request information.
Restoration Berkel P
Artigiani del Restauro take care of the restoration of Berkel model P, taking these design slicers back to their original splendor and perfect functionality. Disposing of specialized and qualified team and by means of the most advanced and last generation machine-tooling, the company is able to directly rebuild the spare parts for model P whenever lacking or damaged. Spares for Berkel model P built by Artigiani del Restauro are available singularly for other companies or restorers and can be realized and customized on request. Do you own a Berkel model P and wish to restore it ? Contact us for more information. If you are interested in a ready restored model, perfectly functional in all its beauty, write us to know about price/availability for a Berkel Model P manual meat slicer restored by Artigiani del Restauro.