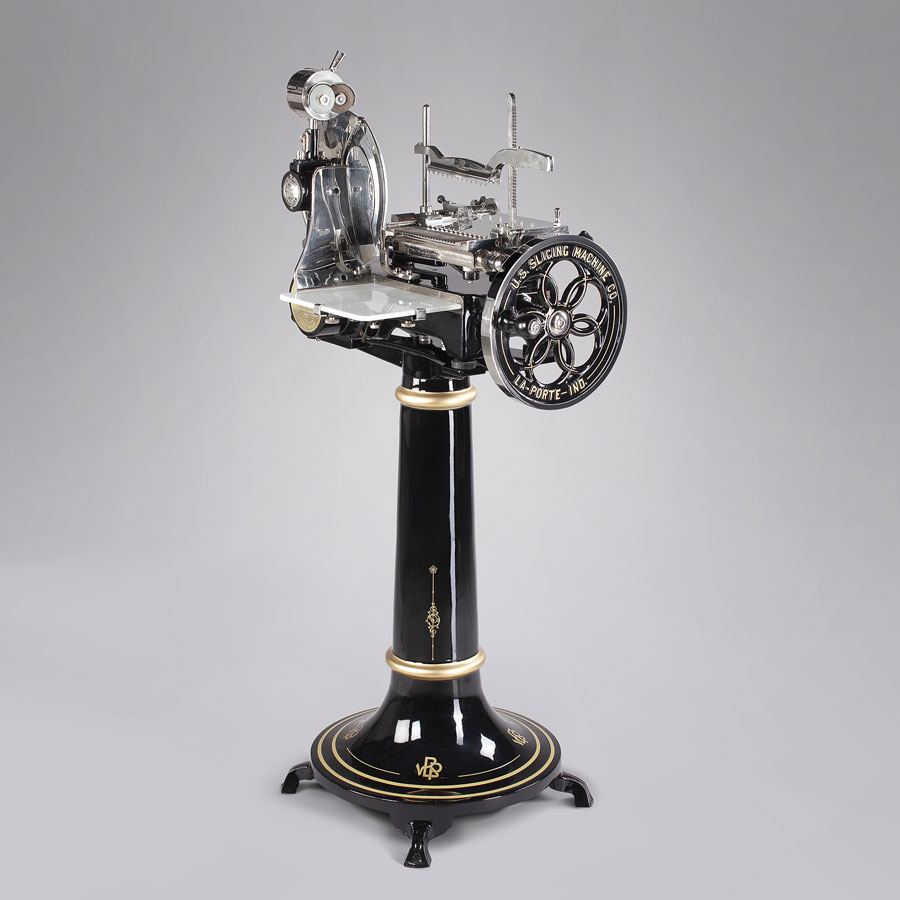 Berkel Indiana ( mod. B)
1919 - 1921
Black / Cream / Red
Berkel model B is one of the oldest models of Berkel and so a design slicer extremely rare.  It was produced in the Berkel american establishment of la Porte around the 20s.  It was nicknamed modello Indiana, or more commonly Indianina,  as the production plant was located in the state of Indiana. After only 3 years of production of this professional slicer , it was subject to some slight variations. What makes Berkel model B with pedestal unique and highly appreciated by the antiquary market and its experts
are its reduced dimensions and so the possibility to install it everywhere. Berkel Model B is not only among the most ancient models, but it is also the smallest Flywheel  slicer made by Berkel in '900.
This manual slicer shows a slender line and it is well proportioned. It is provided with a 263mm diameter blade and a slice thickness regulation device of 12 positions. Also, it is a Flywheel  slicer having a diameter of 279mm. This last one states the typical Berkel flowery draw, with the marks in relief U.S. Slicing Machine La Porte Indiana. Such model was made in 3 different colors : Berkel Model B red, Berkel Model B black and Berkel Model B cream. In all its versions the metal parts were originally nickel-plated. The relevant identification tag plates and the extraordinary decorations allowed this splendid design slicer to rightfully enter into the history of the ancient slicers and become an exemplar model of the industrial and esthetical revolution which occurred early in '900.
Pedestal Berkel mod. B indianina
Want to buy this Berkel Slicer?
Request information.
Restoration Berkel B
Artigiani del Restauro takes care of the sale and restoration of Berkel Model B. This unique and sophisticated design slicer can be totally retrieved and restored with the greatest faithfulness by the staff of Artigiani del Restauro who, also, take care of the rebuilding of all the relevant spare parts, whenever lacking or damaged. In addition to this,  Artigiani del Restauro are able to supply with the single loose spares for Berkel Model B faithfully rebuilt for those who need them. Are you interested in buying a ready restored manual slicer berkel model 5 ? figure out the offer of Artigiani del Restauro: contact us now for more information and price/availability of slicer model B.