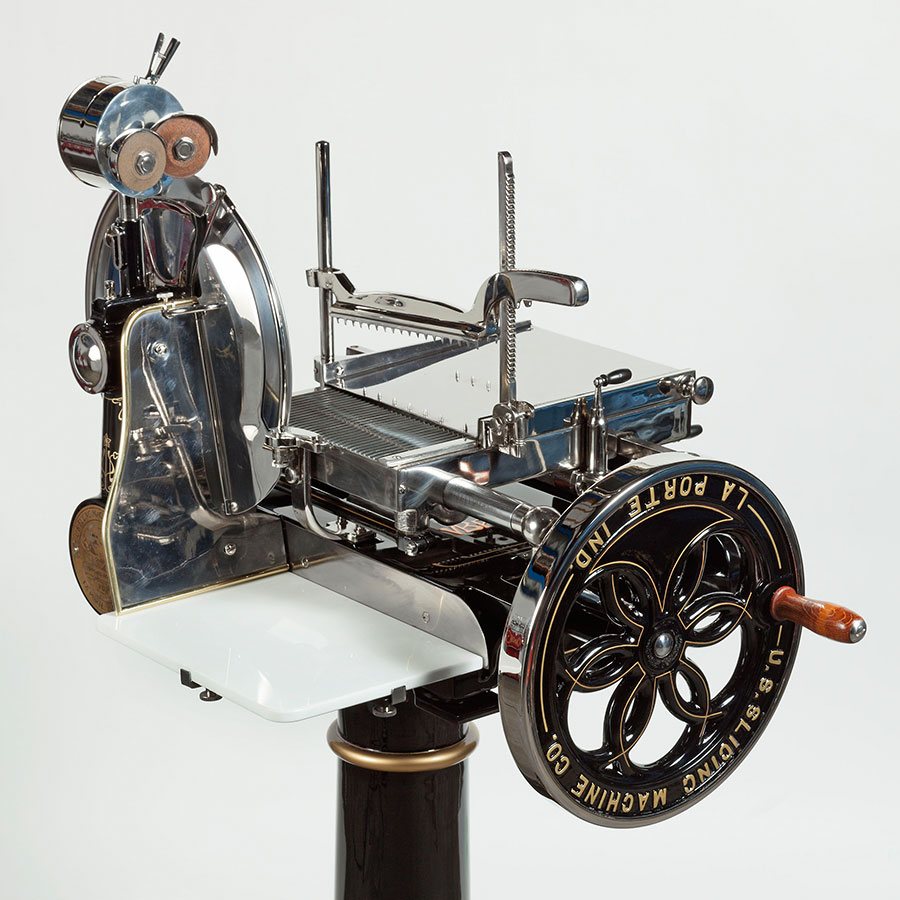 Berkel B80
1916 - 1919
Black / Red
The B80 Berkel flywheel slicer was built between 1916 and 1919 by the Berkel establishment of La Porte establishment in Indiana. This professional slicer has got a 350mm diameter blade and it is provided with a slice thickness regulation device at 24 positions. It's a flywheel slicer showing the famous flowery draw upon it, a distinguishing mark-up of all the Berkel patent design slicers.
The flywheel operating Berkel model B 80 with pedestal states in relief the mark "U.S. Slicing Machine La Porte Indiana". This flywheel slicer was produced by Berkel in two different colors : flywheel slicer Berkel model B 80 red or flywheel slicer Berkel model B 80 green. In all the versions of such professional meat slicer, its metal parts were originally nickel-plated.
Pedestal Berkel mod. B80, B100
Want to buy this Berkel Slicer?
Request information.
Restoration Berkel Model B 80
Artigiani del Restauro offer a sale service and restoration of Berkel model B 80. In the handicraft laboratory are retrieved models of flywheel slicers and taken back to their original design beyond their perfect functionality. Artigiani del Restauro are in a position to directly produce the spares for Berkel model B 80 in case of missing and damaged parts during the restoration cycle. The company objective is to serve a professional flywheel slicer perfectly operational and provided with its original design, which made all the Berkel slicers an icon of style and design. On request, Artigiani del Restauro may realize and supply third party with the single spares for Berkel model B 80  faithful to the original and built up with the greatest care in every detail. In addition to this, the company is able to sell this machine ready restored. Do you wish to know about the price of a ready restored Berkel model B 80 by Artigiani del Restauro and purchase it ? Contact us now for further information.