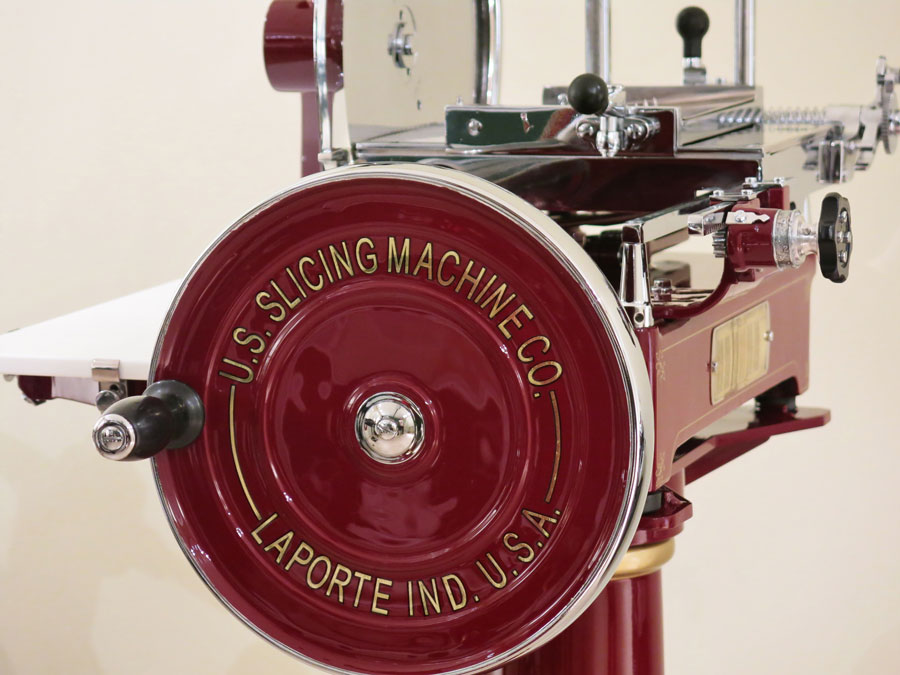 Berkel 7 U.S.A.
1926 - 1932
Black / Red
The Berkel Model 7 U.S. flywheel slicer was built between 1926 and 1932 in the establishment of La Porte in Indiana and Toronto in Canada. This flywheel slicer is a model with contained dimensions, the second one for smallness produced by US slicing Machine in these 2 establishments. It embodies many aspects of the U.S. Berkel Mod. B :  it's in fact about a slicer machine with sharpener in which this last one is the same as in the previous version.
The professional slicer model 7 U.S. has got a blade with 330mm diameter and it is equipped with a calibration device for the slice thickness regulation in 13 positions.
A closed 294mm flywheel is to operate the slicer Berkel Model 7 U.S. , on which the  marks in decalcomania U.S. Slicing Machine Co La Porte Ind. are applied. In such design slicer the big clamp for the product placing is fixed upon two columns and it is equipped with a handle. This flywheel slicer was realized in 2 colors : Flywheel slicer Berkel model 7 U.S. red and flywheel slicer Berkel model 7 U.S. green. In both versions the mechanical parts were originally nickel-plated.
Want to buy this Berkel Slicer?
Request information.
Restoration Berkel Model 7 U.S.
Artigiani del Restauro take care of the restoration of Berkel Model 7 U.S., taking these flywheel slicers back to their original splendor and functionality. On restoring Berkel Model 7 U.S. slicers, the company personnel works with handicraft care and the greatest thoroughness to retrieve the authentic design out of the machine. In case of missing or damaged parts, it will re-build faithfully the needed spare parts for Model 7 U.S. in order to complete the work. Eventually, it may realize third party spares for Model 7 U.S. perfectly faithful to the original.  If you own this machine model and wish to restore it, or if you are interested in the purchase of it already renovated, contact us for an estimate on a Berkel slicer model 7 U.S.