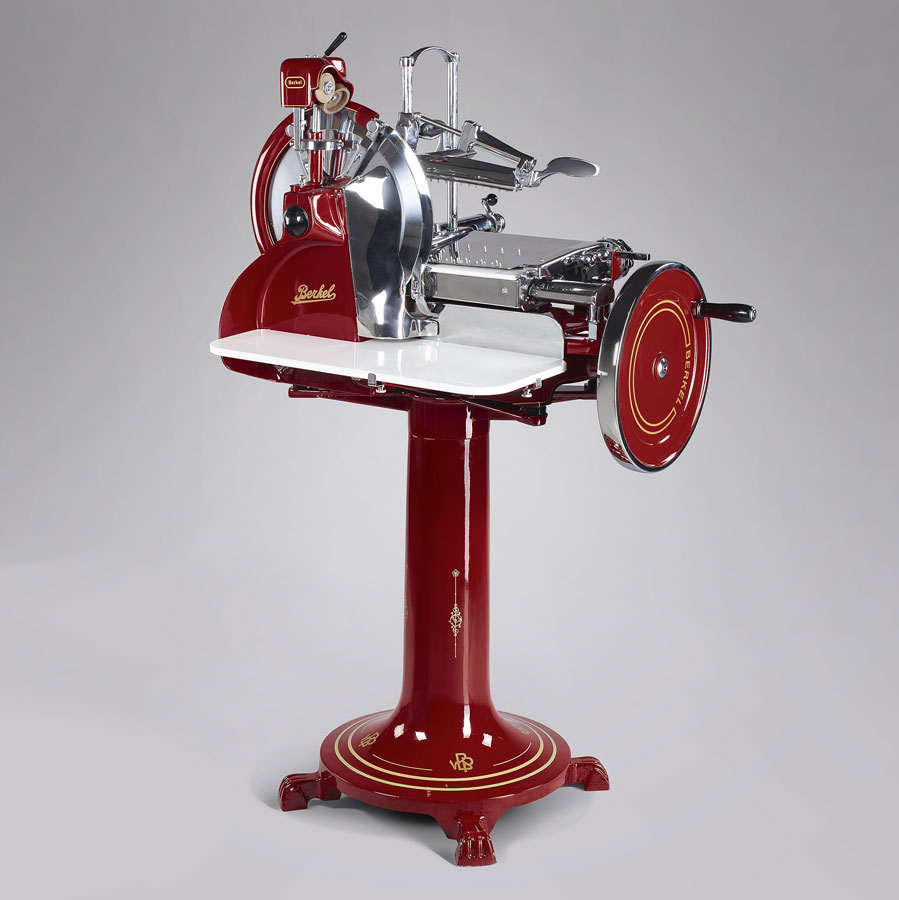 Berkel 21
1948 – 1956
Black / Red
This flywheel slicer was built by Berkel between 1948 and 1956. Only on the Italian market, this machine went by the name of Berkel Model 21. Actually, being it an up-upgrade of the previous model of professional slicer, in the rest of the world it was sold and known as flywheel slicer Berkel Model 8. The changes adapted on this flywheel slicer, in comparison to the previous model, actually are just a few : the melt-casting structure of Berkel slicer model 21 is identical, as well as the scroll carriage with the helical threaded screw and the machine comb system fixed with a charge spring.
The graduate knob for the slice thickness regulation of this manual slicer is provided with a bakelite knob while the scrolling pivot is covered by a carter, no longer round but oval.  The machine operation is with the classical open flywheel on which the "Berkel" decalcomania states.  The blade of this manual slicer is a 370mm and it is assembled on the machine performing a bow shape. The sharpener of this machine was modified. Yet the mechanism stays classical Berkel with the painted cap and front mask. Everything was reduced in the dimensions as per model  9.
Pedestal Berkel mod. 8, 21
Want to buy this Berkel Slicer?
Request information.
Restoration for Berkel model 21
Artigiani del Restauro carry out the restoration of Berkel Model 21, taking these machines back to their original beauty and perfect functionality.  In case of missing or damaged parts, the company directly reproduces the spares for Model 21 faithful to the original, thus offering a complete service and a finished restored product with the greatest accuracy and care for details.  Artigiani del Restauro also produce third party the spares for model 21 , sourcing high quality components and products matching with the originals. Do you wish to restore your own Berkel Model 21 with pedestal or buy a ready restored new one ? Contact us for more information on our services and have an estimate for flywheel slicer Berkel Model 21.